Skip to Content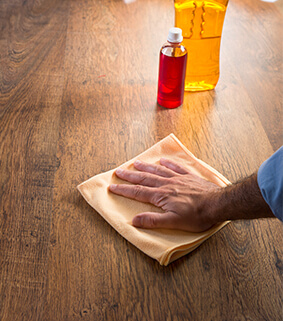 Clean Regularly Use a clean, untreated dust mop or vacuum regularly, wipe up spills quickly with a cloth or sponge, and clean as required. TORLYS recommends you use a no-rinse pH-neutral cleaner, such as Finitec's (www.finitec.ca) or similar.
Only Use TORLYS Approved Maintenance Products Never use wet mops, highly acidic or alkaline cleaners, non-recommended commercial cleaners or polishes, or a treated mop that has been used to clean other floors or furniture.
Protect Your Floors In entryways, use non-skid, non-stain mats. Clean your mats regularly to avoid build-up. Use protective pads on furniture feet to prevent damage.
Maintain Humidity Your TORLYS floor is a natural product. We recommend keeping the relative humidity (RH) in your home between 40% and 60%, at room temperature, to minimize expansion and contraction. Use a humidifier or dehumidifier to achieve the ideal RH levels.
Avoid Rubber, latex or fiber-backed mats because they may stain the finish.
Use Caution When wearing high heels as they can dent TORLYS flooring.
Check on Your Pets Keep your pet's nails and claws trimmed.